AMD odkryła wszystkie szczegóły najszybszej na świecie karty graficznej, której przeznaczeniem jest rozwój oprogramowania do zaawansowanych zadań wizualizacyjnych oraz uczenia maszynowego – Radeon Vega Frontier Edition.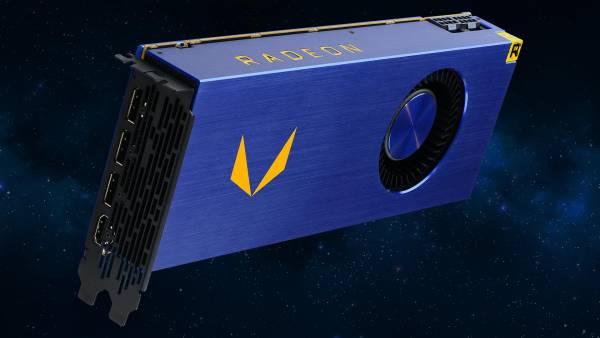 Zaprojektowano ją w szczególności dla naukowców, profesjonalistów i projektantów pracujących nad następnej generacji danymi, grami i wizualizacjami, którzy mogą dzięki niej z łatwością przetwarzać potężne zestawy danych. Radeon Vega Frontier Edition uzyskała o 33% lepszy wynik niż produkt konkurencyjny w programie DeepBench mierzącym wydajność podstawowych operacji, jakie są używane w uczeniu sieci neuronowych.
To także pierwsza karta graficzna na rynku wykorzystująca architekturę AMD "Vega", która w połączeniu z potencjałem pakietu Radeon Pro Software umożliwia twórcom i badaczom poszukiwanie nowych pól i nowych granic dla nauki. Radeon Vega Frontier Edition to w szczególności:
Niezrównana wydajność i współczynnik TCO (Total Cost of Ownership) w dziedzinie zastosowań uczenia maszynowego w połączeniu z otwartą i w pełni skalowalną platformą programową ROCm. Dzięki karcie graficznej Radeon Vega Frontier Edition deweloperzy mogą teraz wykorzystać moc architektury "Vega" do rozwoju algorytmów uczenia maszynowego i realizować to szybciej niż to jest możliwe na jakimkolwiek innym układzie graficznym dostępnym na rynku zanim jeszcze pojawią się serwery wyposażone w dziesiątki lub setki akceleratorów Radeon Instinct.


Wysoka wydajność w zaawansowanym renderingu foto-realistycznych scen, która pomaga w obróbce coraz większych i coraz bardziej złożonych modeli, wizualizacji w czasie rzeczywistym oraz w renderingu bazującego na zasadach fizycznych. Radeon ProRender to potężny silnik do renderingu realizowanego w oparciu o te zasady, który umożliwia kreatywnym profesjonalistom tworzenie oszałamiająco foto-realistycznych obrazów. Dzięki niemu pojedynczy Radeon Vega Frontier Edition pozwala renderować nawet o 172% szybciej niż porównywalna karta konkurencyjna, a połączenie dwóch cechuje niezwykłe skalowanie wydajności na poziomie nawet 91%.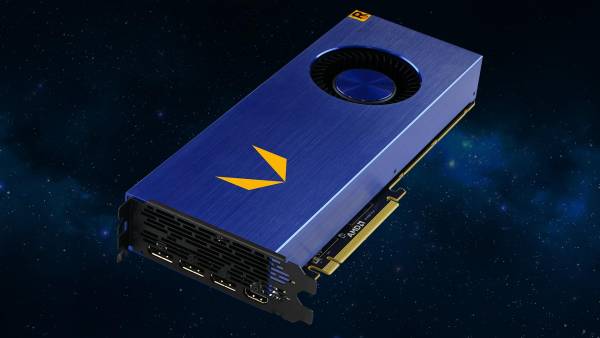 Przyspieszone projektowanie gier oraz realizowanie innych projektów multimedialnych. Pojedyncza karta graficzna Radeon Vega Frontier Edition jest idealna dla każdego etapu przygotowania gier, w tym dla wszystkiego od produkcji poszczególnych składowych, po testowanie i optymalizację wydajności. Dzięki panelowi Radeon Pro Settings użytkownicy mogą wygodnie przełączać się między trybami "Radeon Pro Mode" oraz "Gaming Mode", które są odpowiednio dopasowane do pracy nad modelami, animacjami i aplikacjami oraz do optymalizowania wydajności przy pomocy otwartych i bezpłatnych narzędzi dostępnych w ramach inicjatywy AMD GPUOpen.


Przełomowe możliwości tworzenia treści dla wirtualnej rzeczywistości, które przekładają się na wydajność odpowiednią dla każdego etapu – od początkowego projektu po testowanie finalnych doznań. Radeon Vega Frontier Edition to najszybsza dotąd karta graficzna AMD spośród produktów klasy Radeon VR Ready Creator – uzyskuje maksymalny możliwy wynik w teście SteamVR – 21% lepszy niż wykorzystujący dwa układy GPU model Radeon Pro Duo. Wykorzystując technologię Radeom Loom twórcy mogą łączyć wideo w wysokiej rozdzielczości (nawet 8K x 4K) w czasie rzeczywistym.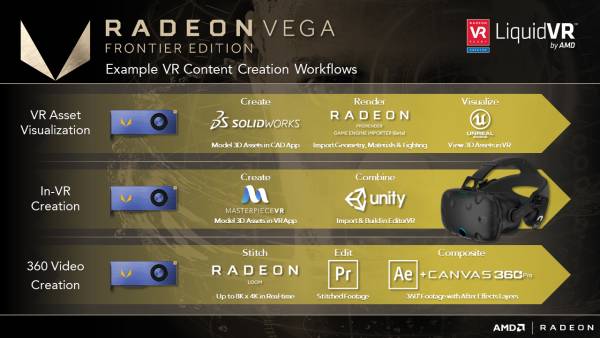 Karty graficzne Radeon Vega Frontier Edition są dostępne u sprzedawców w wybranych regionach w cenie sugerowanej 999 USD dla modelu z systemem chłodzenia powietrzem. Edycja z systemem chłodzenia wodnego powinna się pojawić w 3 kwartale w cenie sugerowanej 1499 USD. Więcej informacji na ten temat można znaleźć tutaj.
Udostępnione wcześniej tego roku rozszerzenie Radeon ProRender dla programów Blender i SOLIDWORKS w wersji beta osiągnęło status pierwszej wersji produkcyjnej, która jest bezpłatnie dostępna tutaj. Firma AMD wydaje ponadto wersję beta narzędzia Radeon ProRender Game Engine Importer, które umożliwia łatwy import geometrii i materiałów tworzonych z wykorzystaniem Radeon ProRender z aplikacji takich jak SOLIDWORKS wprost to silnika Unreal Engine i oglądanie ich w VR. Zapraszamy do zapoznania się z blogiem na ten temat.
Najlepsze możliwości zarówno w dziedzinie obliczeniowej (ROCm), jak i profesjonalnej grafiki, są możliwe przy wykorzystaniu najnowszych sterowników dostępnych tutaj.