ZW3D to popularne i nowoczesne rozwiązanie CAD/CAM. Oprócz standardowych funkcji programu znajdziemy w nim zaawansowane rozwiązania do projektowania elementów konstrukcyjnych, takich jak arkusze blach.

Konstrukcje blaszane są wykorzystywane w motoryzacji, produkcji AGD, elektronice i wielu innych sektorach przemysłu pozwalających na rozwijanie projektów. Nakładka Arkusze Blach to rozwiązanie dedykowane właśnie tym dziedzinom.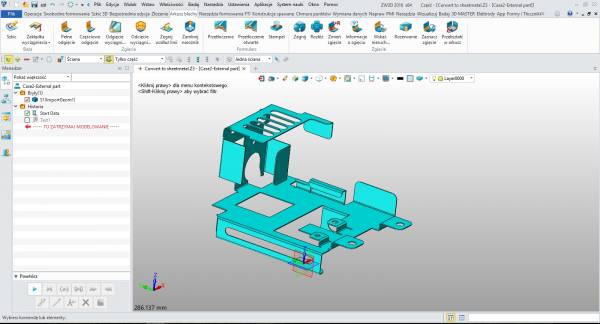 Wychodząc naprzeciw potrzebom projektantów i konstruktorów korzystających z narzędzia Arkusz Blach, firma 3D Master przygotowała całkowicie darmowy podręcznik, krok po kroku opisujący proces projektowania części blaszanych.
Podręcznik można pobrać TUTAJ >>>
Na ponad 60 stronach publikacji przygotowanej przez zespół specjalistów, dowiemy się w jaki sposób wykorzystać wszystkie funkcje programu. Warto pamiętać, że publikacja przygotowana jest w języku polskim. Dzięki e-bookowi wyciągnięcie odgięcia, zamykanie narożników czy przetłoczenia przestaną być zagadką, a projektowanie przy użyciu Arkusza Blach stanie się jeszcze bardziej efektowne niż dotychczas.